Shoes, a vital accessory in our daily lives, play a significant role in the world of fashion, art, and e-commerce. Getting the right shot can mean the difference between a sale and a missed opportunity.
When delving into the world of shoe photography, there are specific techniques and considerations to keep in mind. This comprehensive guide on "how to photograph shoes" will take you through the essential steps to achieve stunning shoe images.
1. Setting the Stage for Your Shoes
Background Selection: When pondering how to photograph shoes effectively, the background plays a pivotal role. Neutral backgrounds are the gold standard, with white being the most popular choice due to its ability to reflect light. However, depending on the shoe's color and design, black or gray might be more suitable. Ensure the backdrop is smooth and without creases to prevent any distractions.
Surface Choices: The surface on which the shoe sits can greatly affect the mood of the photo. Reflective surfaces, such as mirrored glass or glossy tiles, create a premium feel by producing a subtle reflection of the shoe. Matte surfaces can also be effective, giving a grounded and natural vibe.
2. Mastering the Art of Lighting
The importance of proper lighting cannot be understated when considering how to photograph shoes.
Natural Light: Diffused natural light can produce soft, even illumination. However, beware of direct sunlight. It may introduce harsh and unflattering shadows. Use curtains or diffusers to manage the intensity and direction of the light.
Artificial Light: Studio lights are invaluable tools. By placing two light sources at 45-degree angles relative to the shoe, you eliminate deep shadows, giving the shoe a three-dimensional feel. Softboxes or diffusers can spread light more evenly, preventing overexposure or burnouts.
3. Getting the Right Angles
Angles can make or break your shoe photos. When thinking about how to photograph shoes, imagine showcasing the product's story from various perspectives.
Front View: This angle helps highlight the toe box, often showcasing intricate details or unique design elements.
Side View: A side profile emphasizes the shoe's silhouette, arch, and sole thickness, offering a clear view of its shape.
Back View: This often-neglected view can display the heel design, branding, or any unique embroidery.
Top View: Perfect for shoes with design elements on the top, such as unique stitching, laces, or patterns.
45-Degree Angle: This popular angle provides depth, giving viewers an almost three-dimensional experience, showcasing both the side and top of the shoe.
4. The Role of Styling and Props
Styling plays a vital role when learning how to photograph shoes, as it brings life and context to the product.
Maintaining Shape: Use shoe trees, tissue paper, or custom fillers to ensure that the shoe retains its natural shape, especially if it's not being worn.
Accessorizing: Props help contextualize the shoe's purpose. For instance, athletic shoes can be accompanied by a stopwatch, gym towel, or headphones, subtly suggesting their use-case.
5. Post-Production Magic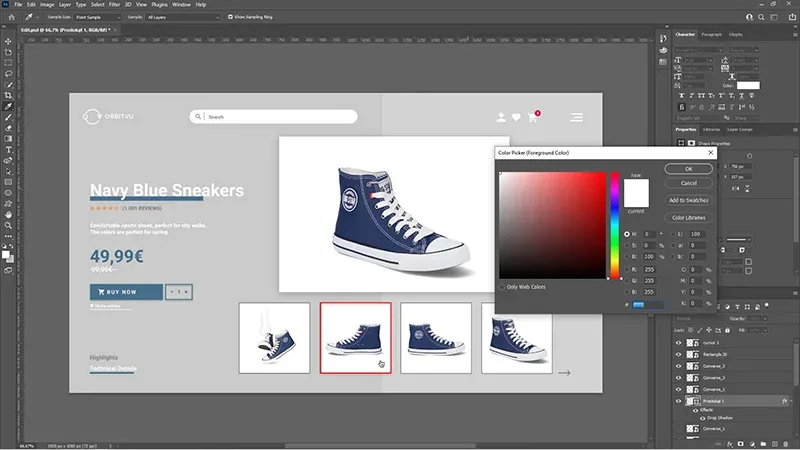 Even the best photographs can benefit from post-production.
Brightness & Contrast: Adjusting these can enhance or subdue details, ensuring the shoe looks vibrant yet natural.
Retouching: This process can remove any unwanted blemishes, scuffs, or dust particles, ensuring the shoe looks pristine.
Color Accuracy: Ensure the colors in your photo match the real-life product. Color calibration tools can be beneficial for this purpose.
6. Automated Product Photography
In the realm of e-commerce, speed and consistency are vital. This is where automated product photography shines. Companies like Orbitvu offer solutions that automate the process, ensuring high-quality, consistent shots every time. With 360-degree photography solutions and advanced editing tools, Orbitvu takes shoe photography to the next level. It's perfect for businesses looking to showcase their products in the best possible light, without the hassle of traditional setups.
In Conclusion
Photographing shoes is an art that blends creativity with precision. By focusing on the right angles, perfect lighting, and a bit of post-production magic, you can showcase shoes in all their glory. And for those looking for efficiency and consistency in product photography, remember to explore automated solutions like those offered by Orbitvu.